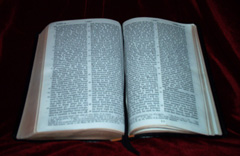 ---
Hold fast what thou hast
Judges 6:7-16; Judges 8:4-6, 11-12, 18-21, 28; Revelation 3:8-11.
I was affected by how God, in a day of much pressure, supports Gideon in dealing with Midian. We read in verse 8, "Jehovah sent a prophet", and I believe Gideon took to heart the prophetic word, which concludes in verse 10: "But ye have not hearkened to my voice." Earlier, the Midianites had brought in corruption of the flesh among God's people (see Numbers 25), and God had allowed them to impoverish His people — to rob them of their food supply, because they had done evil in God's sight.
Then we read that "Gideon threshed wheat in the winepress, to secure it from the Midianites." How abnormal and difficult it would be to thresh wheat in a winepress! But Gideon cared about the people having food. He is conscious of the breakdown and he feels it keenly. He says in verse 13, "Ah, my Lord, if Jehovah be with us, why then is all this befallen us?" He is conscious of the day of small things and of the lack of power: "Where are all his miracles that our fathers told us of?" And in answer to Gideon's heartfelt appeal, God speaks to him directly: "Jehovah looked upon him, and said, Go, in this thy might, and thou shalt save Israel from the hand of Midian." It shows what is possible in a day of small things, a day of poverty and restriction. "Have not I sent thee?" God says to him. What a comfort that would be to Gideon! He is so conscious of the smallness of things and feels his own weakness as well. He says, "Ah, Lord, wherewith shall I save Israel? behold, my thousand is the poorest in Manasseh, and I am the least in my Father's house." Well, Paul writes to the brethren at Corinth: "Set those to judge who are little esteemed" amongst you. That, I believe, is the spirit in which true judgment is arrived at, by feeling our smallness, feeling that we're not able for these things. Paul says, "When I am weak, then I am powerful" (2 Corinthians 12:10).
"And Jehovah said to him, I will certainly be with thee; and thou shalt smite Midian as one man." What a comfort, what an assurance, that is to Gideon! Then Gideon asks for a sign from God. He asks, really, for two signs. Well, Gideon assembles the people — he "arose early, and all the people that were with him", and now God tries Gideon's faith. There are thirty-two thousand persons with Gideon in view of dealing with Midian, in view of saving Israel out of the hand of Midian, but that is not God's way. "Not by might, nor by power, but by my Spirit" (Zechariah 4:6). Midian is not to be dealt with in any fleshly way. He brings it down to three hundred men: "the number of them that lapped, with their hand to their mouth, were three hundred men." Those are the persons whom God sovereignly uses to save Israel out of the hand of Midian.
Distressingly, Gideon then encounters opposition from his own people. The men of Ephraim say, "What is this thing thou hast done to us, that thou callest us not, when thou wentest to fight with Midian? And they disputed with him sharply." And we have the men of Succoth also: Gideon and the three hundred men were "faint, yet pursuing", in view of completing the matter. "And he said to the men of Succoth, Give, I pray you, loaves of bread to the people that follow me, for they are faint; and I am pursuing after Zebah and Zalmunna, kings of Midian." The whole matter must be fully dealt with, not in any partial way. But "the chief men of Succoth said, Are the hands of Zebah and Zalmunna already in thy hand, that we should give bread to thine army?" They fail to help Gideon, and we can read the subsequent history of the men of Succoth and the men of Penuel as well. But Gideon pursues nevertheless, and "He took the two kings of Midian, Zebah and Zalmunna, and discomfited all the camp."
In Numbers 25, God had said to Moses, "Harass the Midianites, and smite them, for they have harrassed you with their wiles"; now God uses Gideon to deal finally with Zebah and Zalmunna. His son is reluctant to deal with them. It says "he feared, because he was yet a youth." But this matter requires manhood, and even they recognised this: "Rise thou, and fall on us; for as is the man, so is his strength." "And Gideon arose, and slew Zebah and Zalmunna." The matter is completed according to God. And "Midian was subdued before the children of Israel, and they lifted up their heads no more. And the land had rest forty years in the days of Gideon." It's a very sobering section, but it shows how one who is concerned for God's people can act, as conscious of being sent by God, to deliver His people from those who would corrupt and impoverish them.
Well, the link with this passage, in Revelation 3, is the Lord's word to the saints at Philadelphia, "I have set before thee an opened door, which no one can shut, because thou hast a little power, and hast kept my word, and hast not denied my name." Although there are restricted circumstances, as in the winepress in Gideon's time, yet they are just outward restrictions. May we be conscious that the Lord has set before us an opened door. There may be just a little power; it may be small, as it was in Gideon's time, yet our way is not entirely shut up. The Lord is able to strengthen us, to strengthen the things that remain.
The Lord would help us as we go forward on these lines, seeking to be faithful to the Lord Jesus, keeping His word, and not denying His name. Peter denied the Lord's name, and he was recovered. But the Lord says to Philadelphia, "thou hast not denied my name." Just a short little phrase, yet as the brethren in Philadelphia received this word, how they would treasure the Lord's assessment of them! We spoke on Saturday, in New York, of the Lord's assessment of these localities and His appearance in judicial garb, in chapter 1: His eyes as a flame of fire, out of His mouth a sharp, two-edged sword going forth, and His countenance as the sun shines in its power — all these judicial features of the Lord Jesus! Nothing escapes His eye!
At the end of this passage, the Lord promises: "I come quickly." Oh, dear brethren, let us heed His exhortation while we await His coming: "hold fast what thou hast, that no one take thy crown." For His name's sake.
S. E. Hesterman
Scotch Plains, New Jersey, USA. January 5, 1993.
---
Hold Fast What Thou Hast