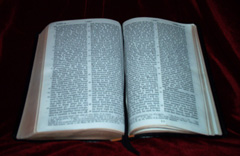 ---
About Us
Website Description
Showers of Blessing was a printed periodical that contained Bible commentaries and notes of ministry that God graciously gave us many years ago as well as during and after a division took place among the Christians with whom we assembled. As we sought to work through the truths of 2 Timothy chapter 2, verses 19 to 22 and Ephesians chapter 4, verses 15 to 16, some of us went through deep soul exercise. You may gain some insight and understanding of our experiences by reading my testimony.
"Yet the firm foundation of God stands, having this seal, The Lord knows those that are his; and, Let every one who names the name of the Lord withdraw from iniquity. But in a great house there are not only gold and silver vessels, but also wooden and earthen; and some to honour, and some to dishonour. If therefore one shall have purified himself from these, in separating himself from them, he shall be a vessel to honour, sanctified, serviceable to the Master, prepared for every good work. But youthful lusts flee, and pursue righteousness, faith, love, peace, with those that call upon the Lord out of a pure heart." (2 Timothy 2:19-22).
"holding the truth in love, we may grow up to him in all things, who is the head, the Christ: from whom the whole body, fitted together, and connected by every joint of supply, according to the working in its measure of each one part, works for itself the increase of the body to its self-building up in love." (Ephesians 4:15-16).
We feel keenly the conditions of ruin and division in which the Lord's people are found, yet we are reminded of Haggai 2:3-5: "Who is left among you that saw this house in its former glory? and how do ye see it now? Is it not as nothing in your eyes? But now be strong, Zerubbabel, saith Jehovah; and be strong, Joshua son of Jehozadak, the high priest; and be strong, all ye people of the land, saith Jehovah, and work: for I am with you, saith Jehovah of hosts. The word that I covenanted with you when ye came out of Egypt, and my Spirit, remain among you: fear ye not."
What a comfort to know, consciously, the reality of these words! The Lord Jesus addresses the overcomer even in Laodicea, the last of the seven assemblies, with the words: "He that has an ear, let him hear what the Spirit says to the assemblies." In these Laodicean times, it is our desire to be here as five wise virgins, who "took oil in their vessels with their torches," Matthew 25:4, and to be ready when our glorious, adored Bridegroom comes, to go "in with him to the wedding feast."
Privacy Policy
This privacy policy statement discloses the information gathering and dissemination practices of the Showers-Of-Blessing.org website. No personal information is collected herein or disseminated hereby. However, this privacy policy does not apply to third-party websites that are referenced by this website.
---